James Arney crowned UK's Fittest Farmer 2020
20 October 2020
Our very own 2nd XI Skipper has been crowned the UK's Fittest farmer. James Arney took the crown at the finals held in Essex on the 17th October.
James said "It was a great day which I had trained very hard for, The final was much tougher than expected and pushed me very hard. It was a great event for the promotion of mental and physical health and well being in farming"
The BFF final was held on Saturday (17 October) at Farm Fitness, an outdoor gym run by farmer's son Tom Kemp on his family's arable unit in Essex.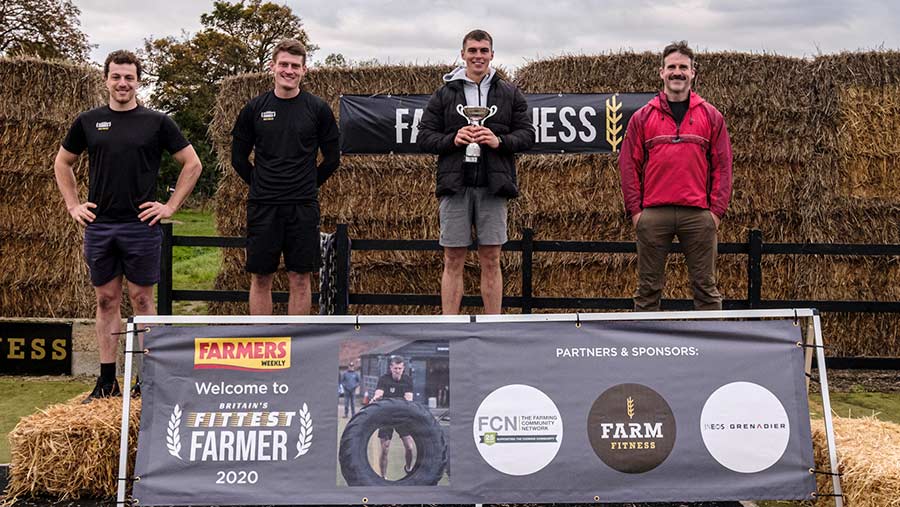 Male champion James Arney (centre) on the podium
The nine male and nine female finalists tackled a variety of punishing physical tasks designed to push their speed, strength and stamina to the limit.
The challenges included cross-country sprinting, lugging straw bales around, blasts on assault bikes, throwing heavy sandbags over walls, lifting up to 100kg above their heads and deadlifting as much as 120kg as many times as they could manage.
Co-judge Tom Kemp said: "It's great to see so many farmers and people from the agricultural industry homing in on their fitness and looking after themselves.
"Their resilience and work rate is top-drawer, and they're willing to take on any challenge and just get it done."
Watch the video highlights of the Britain's Fittest Farmer 2020 final.